This week we offer you article no. 2: a more in-depth, step-by-step guide on how to clean your smooth leather shoes. It's important to remember that there are multiple ways to polish your shoes. Different people prefer different methods and approaches and also have different philosophies when it comes to shoe care. In this guide we will show you some basic steps that will help you achieve one important thing; prosperous and good looking shoes =)
Don't forget to check the video at the end of this guide! And part 1: Shoe Care – The Basics Art. 1
Step 1 – Wash
When you need to wash your shoes depends on several factors. You can easily tell: if your shoes look dirty or dull (because of the many layers of shoe polish) it is time to wash them. There is no standard period of time after which you need to wash them. However, it's recommended to do it at least every 6 months. See it as putting new layers of makeup on your skin, and never removing the old one. Every once and a while you need to remove old layers of polish and give your shoes some new energy.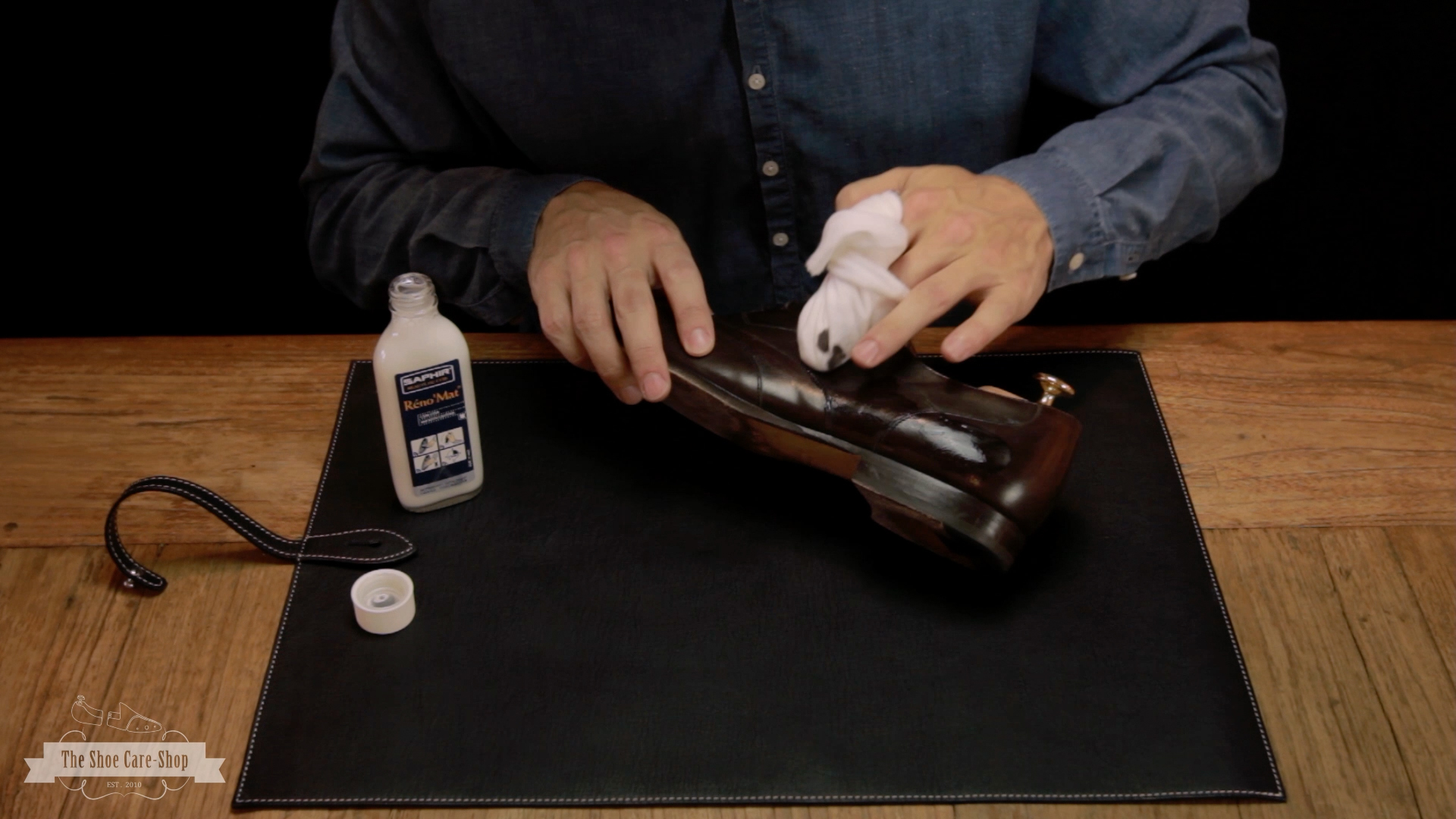 The first step is to wash your shoes with a good cleaning product. Two great cleansers are
You can choose the one you prefer: Renomat is easier to use but is not as gentle to the leather as Saddle Soap.  Both products will leave your shoes in a perfect, clean condition.
Alt 1: Renomat can be applied with a cloth and needs to dry for only five minutes. Simply douse the cloth in a little bit of Renomat (you do not need a lot) and rub it on your shoes. You will quickly notice how much polish the Renomat actually removes. Don't overdo it with the Renomat because it will keep removing polish and eventually color. Most of the time a simple wipe will suffice.
Alt 2: With Saddle Soap you really have to scrub and wash your shoes with water and let them dry over the night. Simply moisten a sponge or cloth with water and apply a little Saddle Soap to it. Keep washing until the entire shoe is covered in soap. Afterwards, wash the soap off your shoes with water and let dry overnight, preferably with newspaper or shoe trees inside and tilted on the side to dry faster.
Step 2 – Nourish
To keep leather looking healthy and shiny, it needs to be nourished. The best way to do this is by using Saphir Renovateur, a colorless renovating cream that will restore the leather. It also cleans the leather mildly – making it the perfect product for the weekly polish.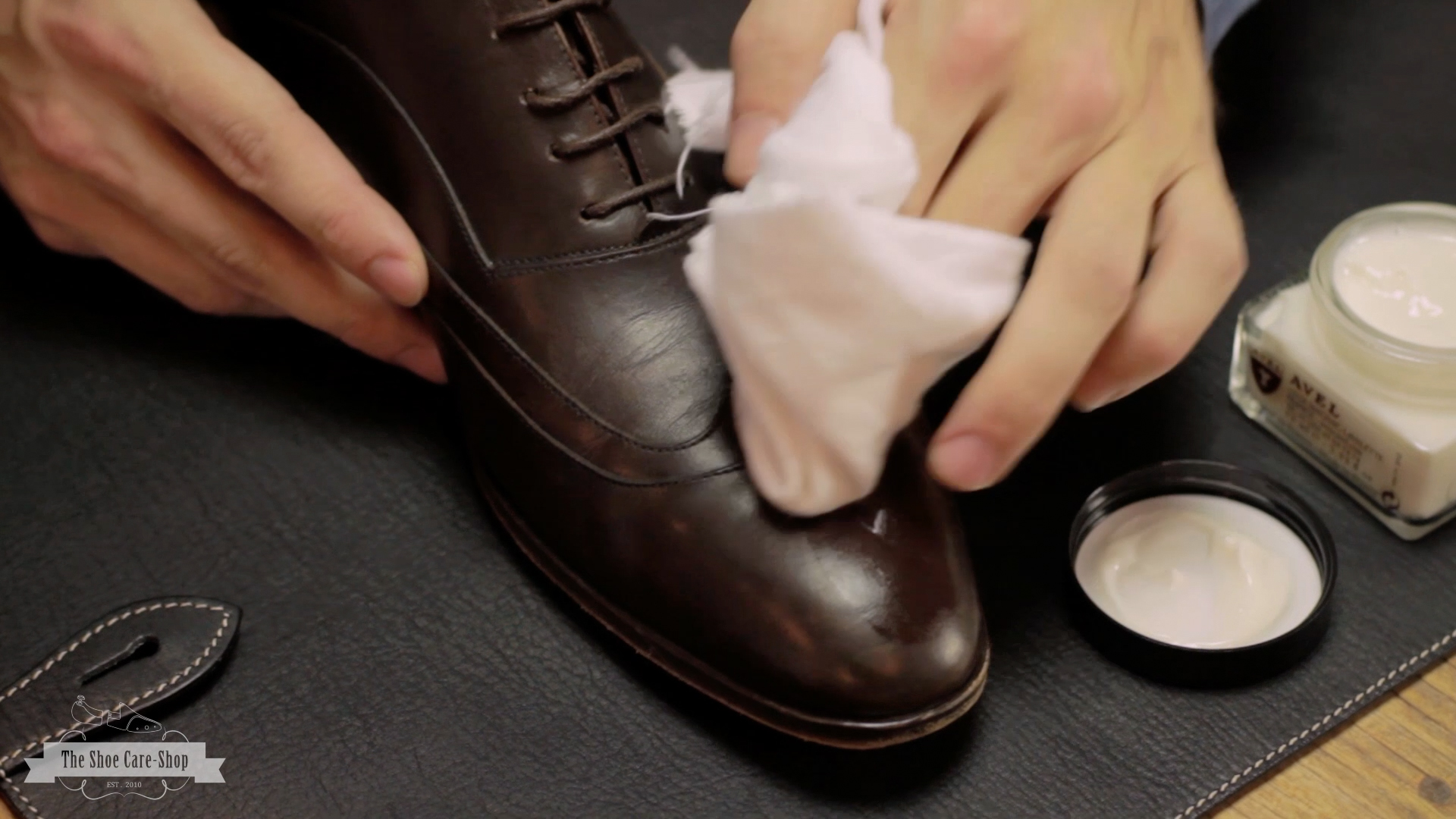 Saphir Renovateur is best applied using a cloth. Apply a small amount of cream with small rotational motions, massaging the cream into the leather. Use an applicator brush (or old toothbrush) to apply Renovateur in the space where the sole meets the upper part of the shoe. To give your shoes the chance to revive fully, let the Renovateur soak for about fifteen to thirty minutes. Then remove the excess cream by brushing them quickly with a shine brush. The Renovateur will leave your shoes nourished, but not finished: it still needs a top coat for shine and protection.
Step 3 – Cream Polish
The actual polishing starts with a good shoe cream, such as Saphir Pommadier cream. A cream is essential for polishing shoes. It colors the leather better than any wax and also covers scuffs and marks that may arise from daily use.
Apply a small amount cream using a cloth or applicator brush with circular movements. Let the leather soak for ten to fifteen minutes. Don't forget the space between the sole and upper. Use a horsehair brush to make the shoes shine and remove the excess cream.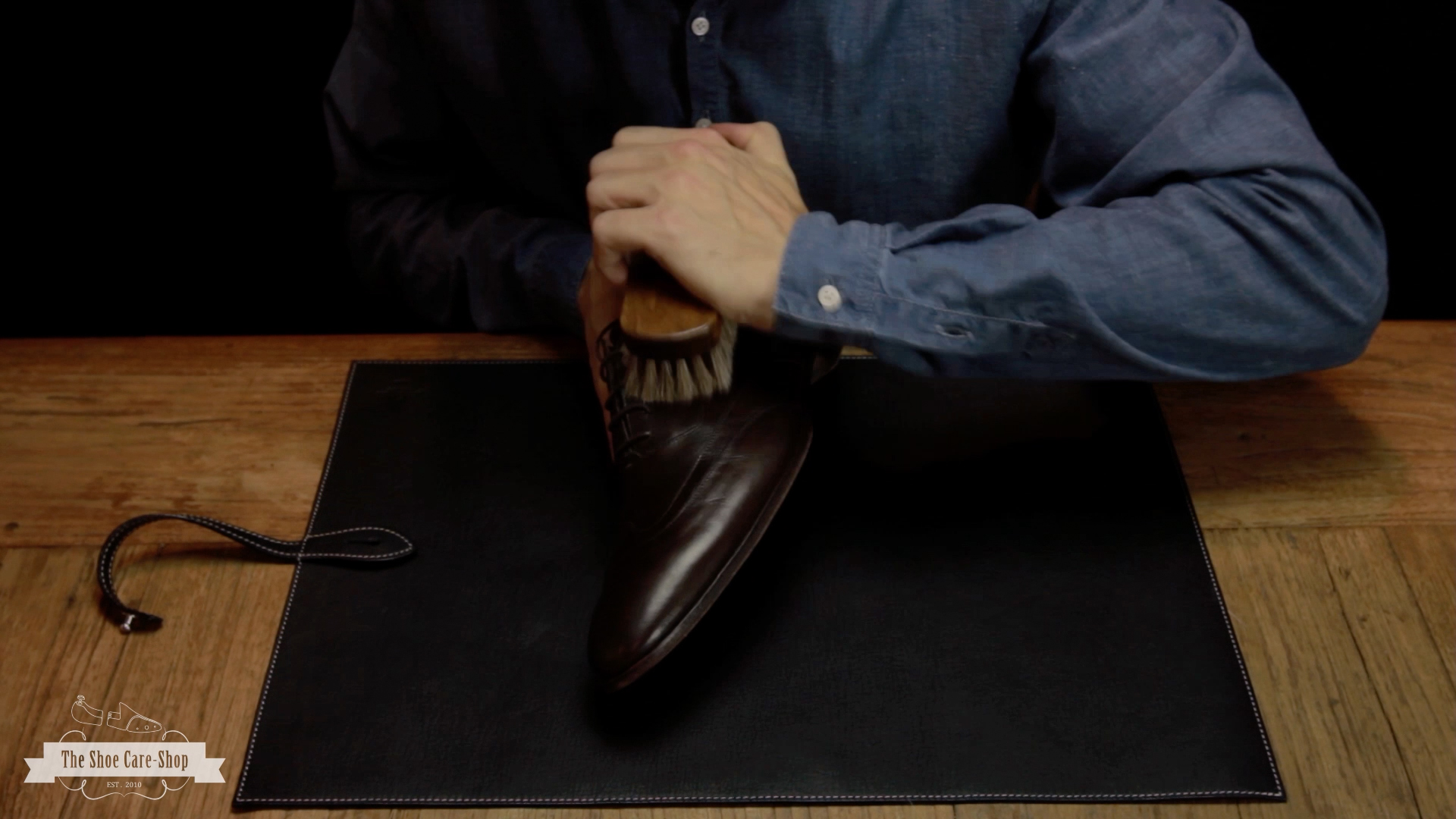 Step 4 – Wax Polish
If you wish to finish off with a high gloss and even more protection, you can use Saphir Pate de Luxe wax after the cream. The cream is the base for the wax, enabling the wax to attach perfectly to the leather. You apply the wax in the same way as the cream: use a cloth and circular movements to apply the wax. Let it dry for a few minutes, enabling the moist to evaporate and by doing so, your shoes will have an extra gloss. Always finish the polishing with a horsehair brush to make your shoes shine perfectly.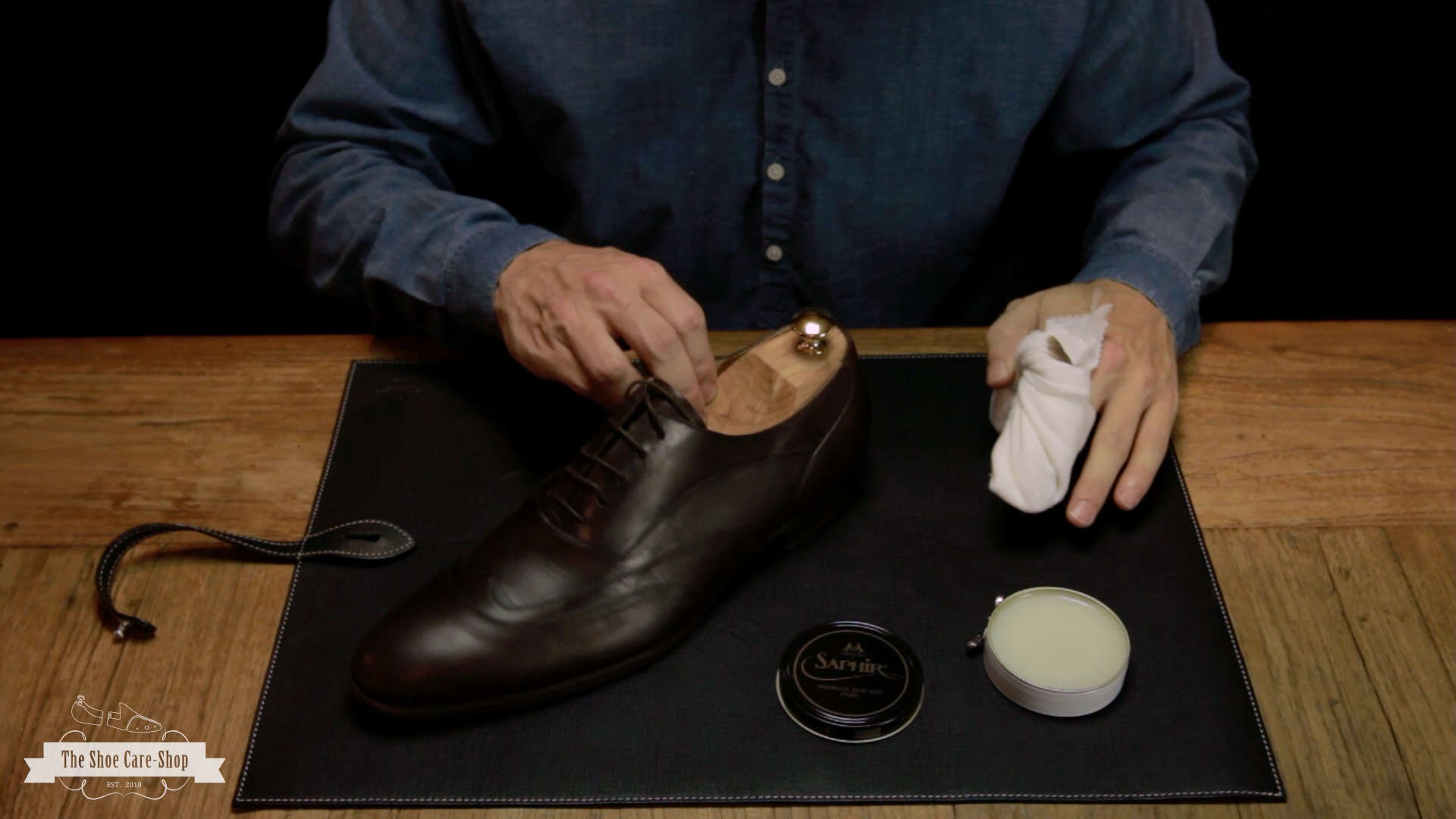 If you want the best shine possible: apply extra (three to five) layers of shoe wax. In between the layers you let them dry for a few minutes, brush them and rub gently with a cotton cloth with some drops of water. A great and luxury must-have for the perfect shine and to step up your game is the Saphir Polishing Glove. Or simply borrow your lady's torn nylon pantyhose; also works perfectly fine!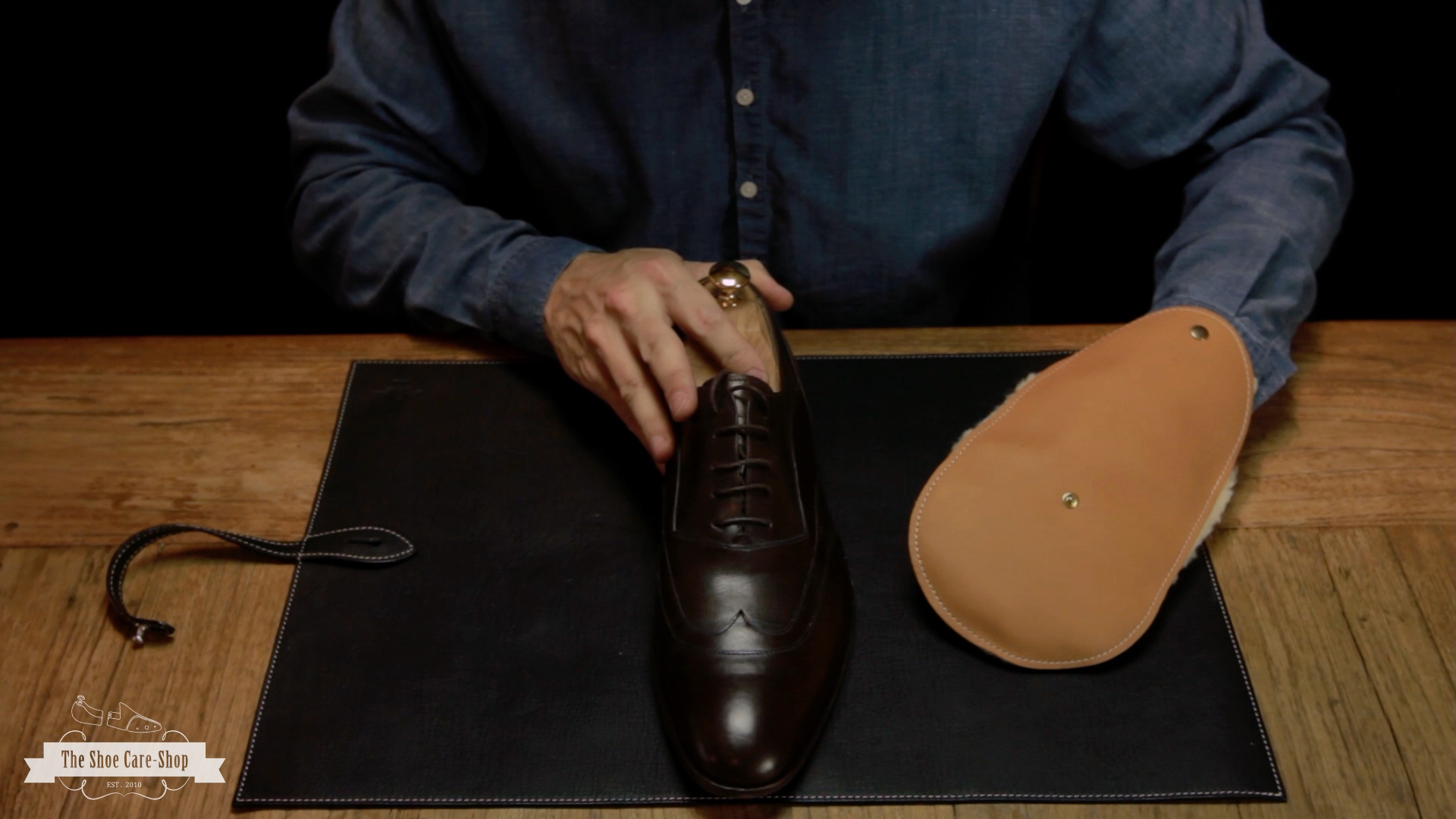 Tip:
Are the edges of your soles damaged or dull? Use some dark wax on them – it will make
Don't forget to watch this video for a step by step guide through the shoe shine process!