Beautiful shoes are essential to every men's wardrobe. But to increase the lifespan and keep them pristine, it is equally important to take good care of them.
To start off with!
Cedar shoe trees are essential to proper long-term care. The unvarnished cedar protects the leather, fabric, stitching, and soles by absorbing moisture, salts, and acid. That way the tree smooth out creases and wrinkles, and when used properly, they will make the shoes not only look better but also last longer.
So how do you do that – taking proper care of your shoes?
The key to this is high-quality shoe care products. When you choose a shoe cream, always make sure it's beeswax based. The beeswax nourishes, protects and shines the leather perfectly. If you want the best, go for Saphir Medaille d'Or. Their shoe cream isn't just made out of beeswax but is completed with seven other nourishing ingredients, such as mink oil and vegetal wax.
The first step in shoe care is cleaning!
Before you treat your shoes to a new layer of polish, it is important to get the old layers and the dirt off. Brush them with a shine brush – preferably one that is made of horse hair – and use a quality cleanser, like Saphir Lotion. You rub the lotion into the leather with a cotton cloth and finish off by wiping them quickly with a dry cloth. Let them dry for a couple of minutes before you start restoring the dried-out leather to its original state.
The cleaning isn't just important to get the old layers off, but it also opens up the pores of the leather and thus preparing it to absorb the nourishing oils to its full extent. After you let your shoes dry, it is time to bring the leather back to life by using a rich nourishing product, such as Saphir Renovateur. Apply the cream, using either an applicator brush or a cloth, and let it soak into the leather for approximately five minutes. The rich oils will rejuvenate and restore your shoes.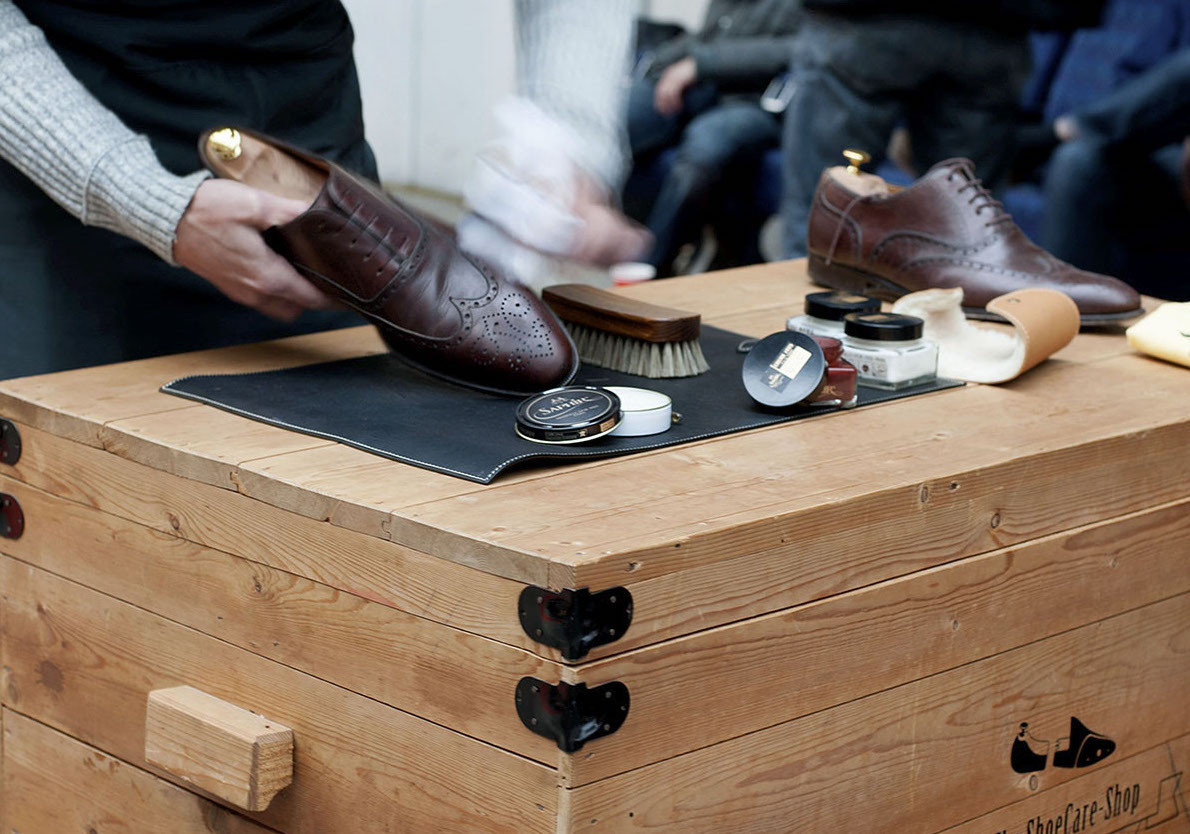 The last step is to let your shoes shine.
For this, you need a matt gloss shoe cream and, depending on the level of gloss you desire, possibly a high gloss shoe wax. The difference between a cream and a wax is that the cream is soft and easy to use. The wax is hard and needs a few special proceedings to apply, which makes it a bit more demanding. But in return, it offers extra protection and a very glossy shine. If you prefer your shoes extra shiny, use the high gloss wax after the matt gloss shoe cream. Always finish by brushing them for a couple of minutes with a horsehair shine brush.
The result? Nice and good looking Gentleman's shoes!