Summer is on it's way. Parties and celebrations will take place in plural and sooner or later we all will end up having a big party with the dresscode: Cocktail attire.
We all know approximately what is looks like, but not really! Is it a suit or a pair of jeans with a shirt? What exactly are the do's and don't within this dresscode. We will tell you all about it in this article, so your summer can start without any worries!
The misconceptions.
Let's start with the misconceptions within this dress code. The mistake that is often made when thinking of cocktail attire that it is thought to be fully dressed up for the occasion. People go for the full black tie look or a 'preppy' option with a coloured suit and crazy tie.
But believe it or not, the official rules are amazingly simple and somewhat reserved.
How it should be?
Starting with the basic, cocktail attire is a dresscode which is based on a semi-formal outfit in a darker color, think of dark gray or navy, with neat shoes (from Loake for example) and a tie (see DD shop).
Compared to other dress codes, cocktail attire always has some room for adjustments in your own style and taste. Feel free to experiment with different fabrics and materials. Cotton works well in summer and flannel for the cold days.
You can also chose for a deeper cobalt kind of colour rather than the common navy. Burgundy also works well. In addition, a subtle pattern is always welcome. Think of a navy marine diamond or a dark gray thin pinstripe. As long as you careful with playing with dark shades, you can't go wrong.
One tip, try to avoid black. Yoy will merge into the crowd and before you know it you will be seen as a waiter and walking around serving drinks. This is obviously not the intention:)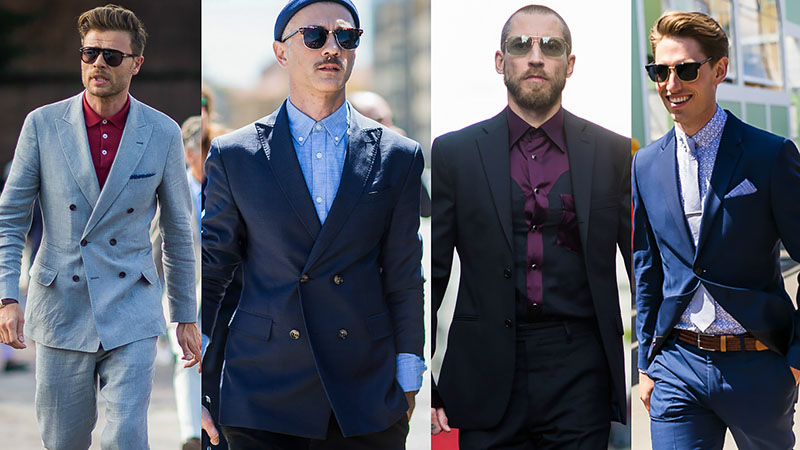 The white shirt.
White shirt are actually almost always and easy and good option for cocktail attire, but it is not very challenging. Yet cocktail attire has some room for creativity. It is definitely challenging, but a shirt with a pattern is totally excepted. Within the black tie dresscode or the conservative business attire it is obviously unaccepted.
Accessories
There is some more freedom for your accessories. And again the patterns work very well. Think about pocket squares with patterns, floral ties, brooches etc. These accessories will stand out, but within this dresscode you create a fully accepted but visually interesting look! And of course you can wear a different pair of shoes too. Think about changing your oxfords for a beautiful pair of loafers or a monk strap (see Loake).
Feel good!
All with all it is important to create a look that suits you. By experimenting with different (darker) colours and patterns, there is a look for everyone! But never forget that it is not a casual event. Provide a respectable but interesting look without deviating from the tips above. Subtle changes are always welcome, as long as they do not deviate too far from the semi-formal dresscode rules.
Succes!