Anyone that ever wore a pair of white sneakers or a pair of sneakers that has white elements on it probably once in their life wondered how they can make sure that their sneakers stay nicely white and fresh. In this guide we explain step by step how we like to maintain our sneakers. We at Distinctly Different use Tarrago sneaker cleaning products (Tarrago is part of the renown Saphir brand).
So, what do you need?
Basic cleaning: Tarrago sneaker cleaner
Nourishment (Leather sneakers): Tarrago sneaker rescue
Protection/waterproofing: Tarrago sneaker protector spray
Optional for extra white soles: Tarrago sneaker restorer
Tools:
Synthetic sneakers: A firm synthetic brush. Also available in a bigger size here.
Suede: Crêpe brush
Always: Cotton cloth
1. Cleaning
Thoroughly brush your shoes with a brush to remove any loose dirt and dust off the shoes. Begin by spraying one of your sneakers with Tarrago sneaker cleaner. Use a brush and/or cloth to distribute the cleaner over your sneaker. You will notice that the cleaner foams quite a bit. We like to use a mildly moist synthetic brush to clean the upper of our synthetic sneakers and a cloth for the soles. Afterwards rinse off the sneaker cleaner with water. Make sure that you rinse off all the cleaner before setting away to dry. Do not place your sneakers on a heat source since this can cause the material of your sneakers to dry out. Your sneakers should look quite a lot better after this first step. If not please feel free to repeat this step again.
Suede
You can also clean suede sneakers with Tarrago sneaker cleaner. We do recommend to first try the sneaker cleaner on a small spot on the sneakers before washing the entire shoe with it. Some sneakers are coloured only on the surface which usually is no problem, but sometimes you can wash off the colour if you are not careful. In contrast, most dress shoes have their leather dyed all the way through. After washing your suede sneakers with Tarrago sneaker cleaner make sure to brush the suede with a crêpe brush to restore the natural nap of the suede.
(Optional)
If your white soles are not white enough you can use Tarrago sneaker soles restorer. This product actually acts as a whitener and works with a bleaching agent. Be sure to use a pair of gloves when working with Tarrago sneaker soles restorer to protect your hands and read the user manual before use. Avoid using the sole restorer on anything else but the sole edges of your sneakers.
2. Nourishment
With leather sneakers it is important to keep the leather well nourished and flexible. This way you prevent the leather from drying out and tearing. To keep your leather sneakers well nourished we recommend using Tarrago sneaker rescue. Tarrago sneaker rescue is a natural lotion based on avocado oils to gently clean and protect your sneakers, but mainly nourish the leather. Tarrago sneaker rescue is only suitable for smooth and patent leather.
3. Protection
After you have thoroughly cleaned your sneakers it is important to protect them from any coming across your path the next time you wear them. For that we use Tarrago sneaker protector spray. With Tarrago sneaker protector spray you protect and waterproof your sneakers so that dirt does not have get the chance to attach itself to the material of your sneakers.
4. Spruce up your sneaker collection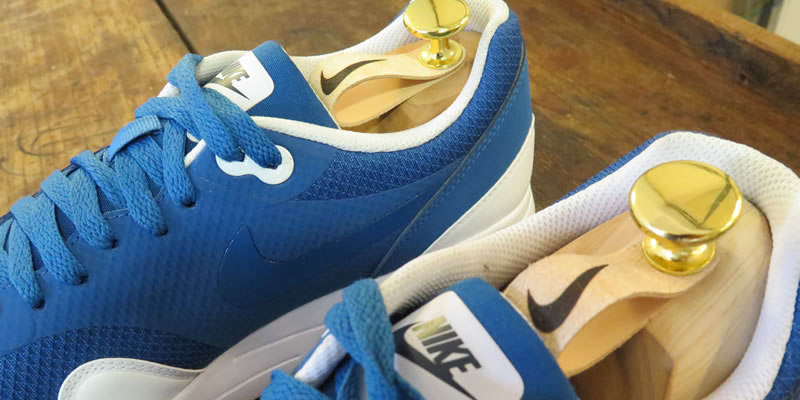 Present your sneaker collection in style by outfitting your sneakers with a pair of luxurious cedar shoe trees. Not only do they make your sneaker collection that much more presentable, they also keep your sneakers in their original intended shape. We also offer shoe trees with a leather tag so you can mark each pair of sneakers with it's brand.