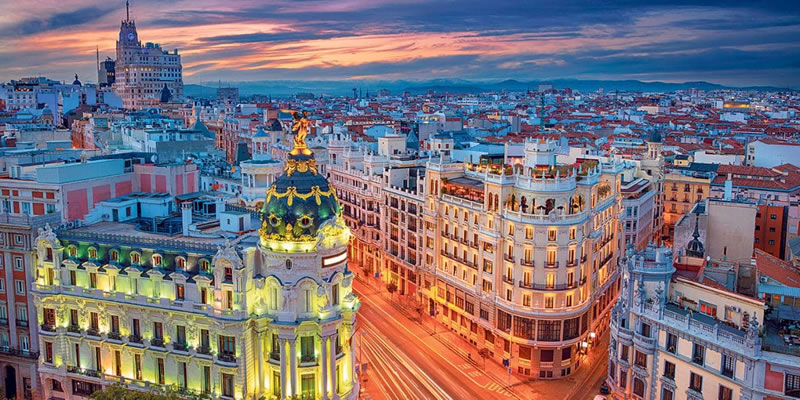 The Spanish capital has always been a must-see city and is said to be the most important of the Iberian Peninsula. The city houses the Spanish Royal family, with the Palacio Real in the city centre being the spectacular working palace of current king Filips VI of the Bourbon family. Madrid has some exquisite museums. The Museo del Prado is of international value with centuries-old masterpieces by painters like Velázquez, Jheronimus Bosch and Goya. Anywhere downtown you can enjoy the endless mix of restaurants, bars and clubs. Grab a bite in a Madrid institution: Bodega La Ardosa. This restaurant dates back to 1892 and has been the living room of the city. Try some nice tapas with a good glass of Rioja and you will forget the time.  The Madrileños are very warm and hospitable people making you feel at home the minute you set foot in Madrid. They live together as one family, although they are enemies when Real plays a match against Atlético in Estadio Santiago Bernabéu, definitely pay a visit to this historical sports arena if you are into football. Madrid has over 3 million inhabitants, over 6 million people if you count in the metropolis. Whenever you want to escape the busy city-centre, go to Parque de El Retiro: relax and read a book in the Spanish sun, you won't even notice you're in the fourth largest city of Europe! Get the travel guide here.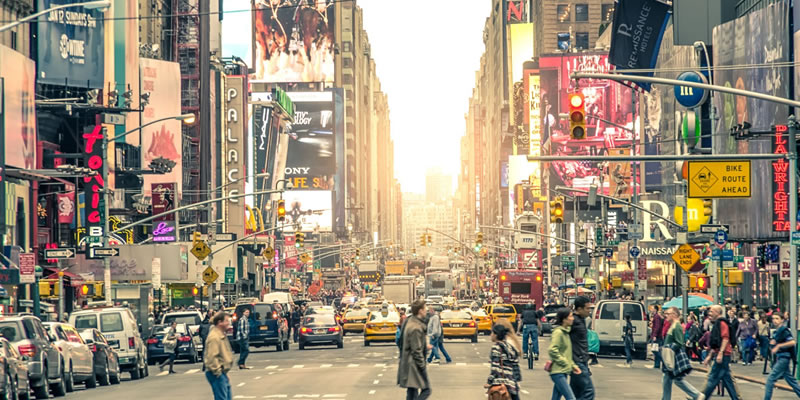 The Dutch colonial occupier bought Manhattan from the Native Americans for 60 guilders, nowadays approximately €700 and named it New Amsterdam. In 1664 the British conquered Manhattan and named it New York. After that, the city has made quite a development. It has nowadays become one of the largest cities in the world and has been described as a financial, cultural and media capital of the world. Also, it has been home to the headquarters of the United Nations since 1952. With just this in mind, there seems to be no reason not to visit this sky-scraping city that never sleeps. NYC has a ton of phenomena buildings and places to see, for example go on a cruise on the Hudson River and be amazed by Manhattans gorgeous skyline and set sail for the Statue of Liberty. The statue is a gift from France to celebrate 100 years of Independence and as a sign of friendship and alliance. Also pay a visit to the lightshow on Broadway, the financial district around Wall Street and Empire State Building, already built in 1930. New York has a vast choice of restaurants; with over 150 different nationalities the city offers a great variety of food with tastes from all over the world. If you want to find a great Italian, look no further! Peasant in Elizabeth St. is a warm and cozy diner in the hart of Manhattan, where food is made with Amore. After dinner take a metro or cab to Central Park and enjoy the green beauty surrounded by skyscrapers as the night falls. Get the travel guide here.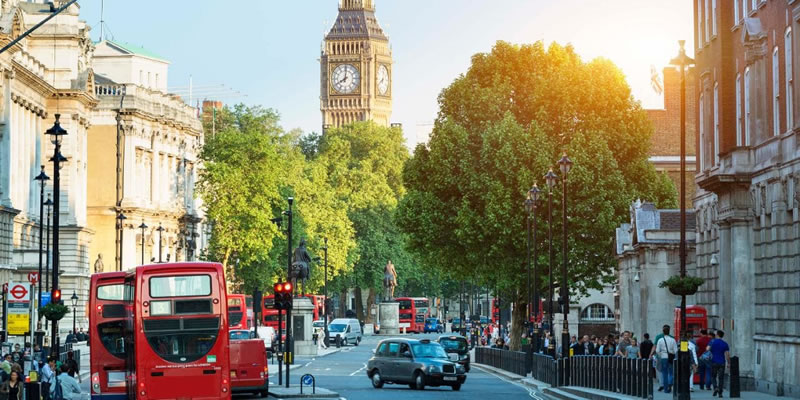 British style and class
Pack it in a city
Put it on both sides of the Thames:
= The recipe for success!
London has always been one of the bearers of power in Europe and is one of the few countries that wasn't occupied in World War II. Always strategically defending it's country from the capital with firm hand by leaders such as Churchill and Thatcher. And whát a city, with icons such as the Big Ben, the London Eye and the Tower Bridge, London has a lot to offer. Start the day with traditional English breakfast at your hotel or in a restaurant nearby your residence. Then head for Buckingham Palace and pay a visit to the 'Changing of the Guards', which starts each morning at 11:00 sharp: as British as it can get! The perfect place to stroll around and do some quality shopping is Oxford Street. Don't forget to visit the traditional English department store Selfridges and eat some delicious scones with clotted cream, jam and a pot of tea in their restaurant. Also have a look if there's a nice exhibition in gallery Tate Modern or book a ticket for a concert in the beautiful Royal Albert Hall. If you are into modern architecture, go and see the Shard and the Pickle, names the people of London gave them, respectively 300 and 180 meters of length. Fancying a great steak after a long day of sightseeing? The Hawksmoor is the place to be, with 6 restaurants in London you will always be near one!  Try the Porterhouse steak, best enjoyed medium-rare, you will love it! Get the travelguide here.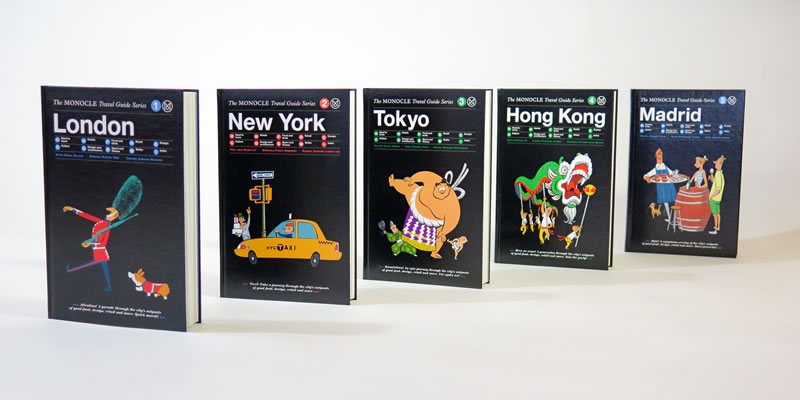 Monocle reports from around the globe in print, on radio and online. Monocle's reporters hop from city to city and get to discover the best places to eat, visit and stay that go beyond the traditional tourist beats. This valuable information is now gathered in the Monocle Travel Guide Series! Clearly divided on topics such as 'Hotels, Food and Drink, Retail, Culture & Walks' you will easily find what you need to know.  Monocle created a continuously growing series of guides starting with major cities like London, New York and Tokyo. Since its first guide in 2015 their series has been rapidly growing up to 22 guides also including Amsterdam. Unique and well-designed guides to make sure your visit will make a lasting memory, the Monocle way.