The history behind the HESTRA brand
It's literally all about handcraft in the Swedish family business Hestra. The company has a long history of making the finest ski and casual gloves of the finest materials. Everything that they do today has grown out of the timber forests of the uplands in the village Hestra in the Swedish province of Småland. That is where Martin Magnusson and his family settled and where he began making gloves in 1936. He set up his workshop in a farmhouse and made gloves for the local lumberjacks.
In 1937, a ski slope was created nearby and as its popularity grew, Magnusson saw a new market for his high quality, durable gloves. His sons became keen skiers and started working in the family business in their teens. Over the years, the word about their gloves spread to places beyond the village of Hestra. Since then, two more generations of the Magnusson family have entered the company; Svante and Claes, who grew up amongst skis and gloves, and now their sons, as well.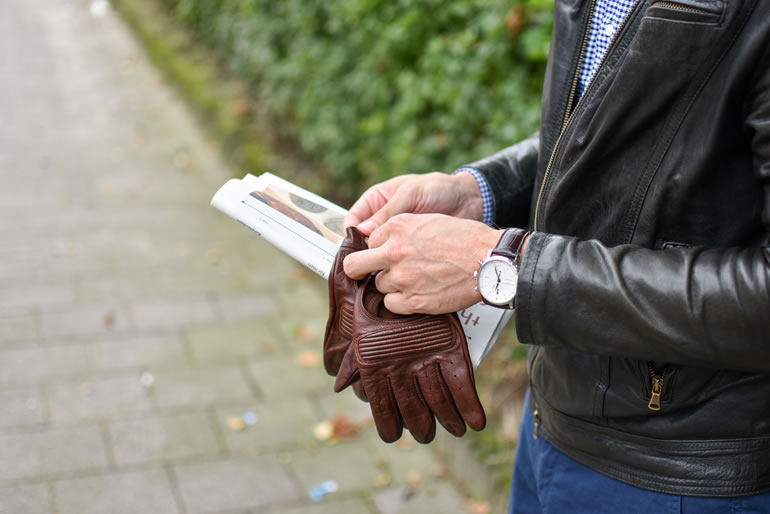 Stylish handmade gloves
Although the brand is popular worldwide, it is still a true family business. Design and development are done at the headquarters in town. The gloves are manufactured in their own factories and they buy all leather, fabrics, wool and other materials their selves. It gives them control of the production chain and ensures a high level of quality.
Their experience, eye for detail and their knowledge of quality fabrics enables them to make perfectly fitted, beautiful and long-lasting leather gloves. When unlined, the gloves are perfect for an autumn day. Whether you go for deerskin or hair sheep leather – they are very flexible and comfortable to wear. A fan of craft? Go for the Jacob gloves; they are hand sewn. That process takes around two hours per pair. It also gives the gloves a great natural look. More interested in something a bit different? Pick the Steve gloves; a great fashion item
– inspired by and named after the legendary Steve McQueen. If you prefer a classic look, the Emerson gloves – with a woven cotton pattern on the back – are for you. Be sure to check out our full offer of HESTRA gloves. Try a pair for yourself. You will not regret it. We fell in love with these gloves…
Are you looking for tips on how to take care of your gloves? Check the video below for more info on that!