Keep them dry
Nothing is more annoying than starting your day soaked. Not only because your clothes will be wet all day, but also because rain ruins your suit and shoes. That's why we love our COVY'S. These rubber covers for your shoes are the ultimate protection against rain, mud and snow. They are 100 percent water-resistant, so your feet will stay dry – no matter how bad the weather is. The slip-proof sole is also a big plus: it gives you a better grip. So no slipping on your leather soles. Due to the simple and stylish design the COVY'S can be easily combined with a suit or casual look. Order your COVY's here!
Clean them up
Most people don't realize it, but the soles of your shoes are quite vulnerable as well. Rain and dirt affect them as it does the leather upper part of your shoe. Saphir's Sole Guard is a protective vegetal oil – specially formulated to offer the best protection for the exterior of your shoe soles. The vegetal oil impregnates the leather, preventing salt and moisture from penetrating the sole. By nourishing your soles with this 100 percent vegetal oil you slow down the wear and tear of your soles. Making your shoes look better and last longer. Order Saphir Sole Guard here!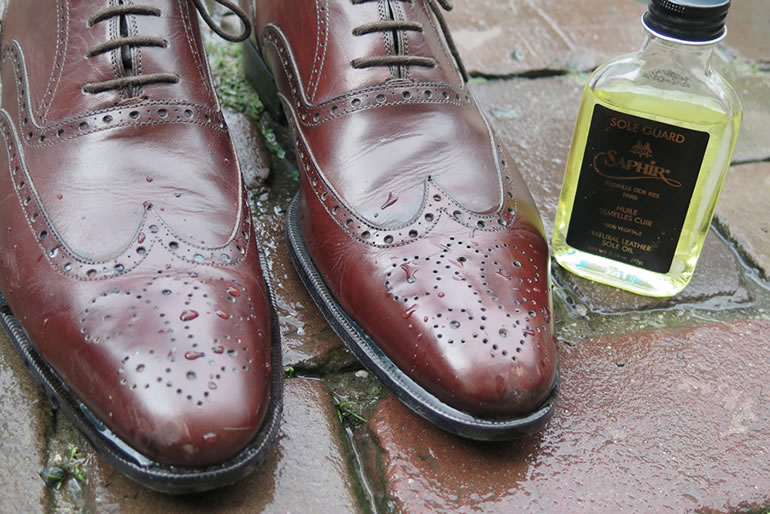 Go for it
Even if you're prepared, shoes will get dirty. Heavy rain, mud and puddles will never do your shoes any good. You should always make sure to protect your shoes. For instance with Saphir's Crème de Soins. This beeswax-based shoe cream is especially intended to care for smooth leather shoes. The Crème de Soins enriches and waterproofs the leather. Of course prevention is better than cure – but if your shoes still get dirty, there is a solution: Saphir leather cleaning soap. Perfect to clean and prepare leather for polishing by removing dirt and old layers of polish. All our shoe care products you can find here!
Cuddle up
Autumn is the time to get inside and enjoy the warmth of your house. Unwind after a long day by lighting a Knackered Cow Candle and infusing the room with a relaxing fragrance of lavender and eucalyptus. By Cowshed, a range of body and skincare products that originated in the old cowshed at Babington House (Soho House) in 1998. The award-winning natural bath & body products only contain the very best organic, wild crafted and fairly traded plant extracts and essential oils. The candles were made from non genetically modified, organic and vegan ingredients. Order your Knackered Cow Candle here!
Keep them safe
Sometimes it is better to just give in to the weather. These Aigle rubber boots are perfect for heavy rain or long walks in both urban or natural surroundings. The faux fur lining makes them not only ideal for cold winter days but it makes the boots more comfortable as well. A classic design that dresses nicely in any casual outfit. Cool and functional. Order your Aigle Boots here!